BENTOPAL is specializing in designing pet supplies, we aim to provide you a friendly, healthy, pleasant living environment with pets.
With us, let your pets get more healthy, let your life be more simply.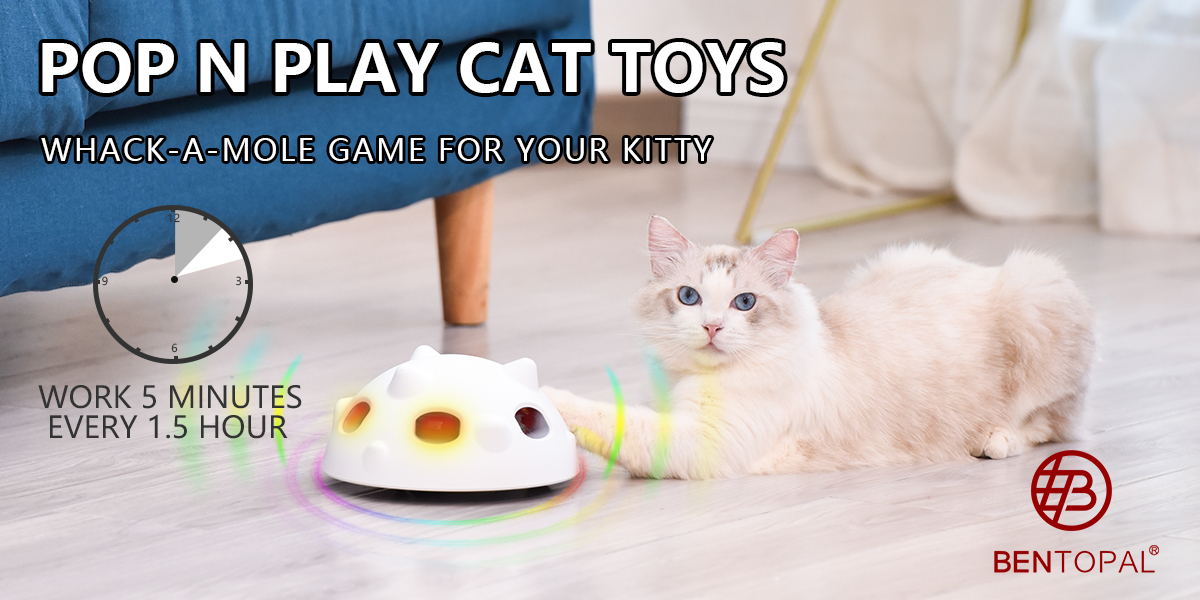 Products Detail for Model P18
The feathers move randomly from six holes, attract the cat's curiosity, and play hide-and-seek with your smart cat. Not fooly stand to working, add moving wheel whent he tails was running, make your cats play hide-and-seek run arround the rooms.
Automatic ON/OFF - Pressing the button and make it on, works 5-mins then shut off helps pets get a nap! auto re-start after every 90 mins. Or this motion activated cat toys can wake-up by pet's paw
Peek A Boo - Large wheel make it runs around your house, support works on thin carpet. While the toys meet any obstacle, freely change the direction
Rechargeable - Built with 900mah battery, support whole days use when under automatic mode. come with charging cable, easily to charge
Fun gaming - Make your kitty exhausting when exercise, keeping kitten entertained and protect furniture even owners are out
Great for all cats - cats young and old will love pop n play, best cat toys for indoor cats
Contact BENTOPAL directly when you have any question in using, you have 12 months warranty and life-time after-sales support
USB charging
USB charging is more convenient, so you needn't change the batteries frequently. The environment is friendly.
3 Mode
1)First normal mode: Normal-feathers pop out at a normal speed, suitable for cats to adapt to the stretching speed
2)Second fast mode: Accelerated-the accessory move fast, suitable for more than one cats, catch the feathers together
3)Third move mode: Move & normal-the toy moves with the feathers stretch slow. Attract your cat to exercise, playing, stay active.
Question and Answer
Q: Does it have any different with those green one?
A: It not a foolly stand cat toys, which will lose cats interested very soon. BENTOPAL robot moving all around the room when turn on, let your cats have a bigger playgareden.
How to change the mode? I saw it have 3 mode, any differents?
Press the power button, start the game by Slowly mode. Press it again, Change to Quickly mode. Press third time will change to active mode - Toys moving while tails run.
How long can it use?
Built in rechargeable battery, charge once make cats funny whole days. NOTE: As it have motion activated function, using time will base on the frequency of use.
Can this toys runs on carpet?
Rolls well on the hard floor, wooden floor, tiled floor, thin carpet. Not recommend using it on the thick carpet.
Package included
POP N PLAY cat toy *1
Feather tails *2
Charging cable *1
User guide *1